Asia Stocks Seen Stable Despite Rising Treasury Yields
Asia's markets are expected to open lower this week, as traders closely monitor China Evergrande Group's debt issue and the pace of economic recovery. The euro lost some of its gains following a close German election.
Futures dipped in Japan, where the ruling coalition is expected to name a new leader this week who will most likely become the country's next prime minister. Contracts remained stable in Australia and fell earlier in Hong Kong. Contracts in the United States remained relatively unchanged. The Nasdaq Golden Dragon China Index – which measures the performance of some of the Asian nation's major companies listed in the United States – fell Friday. The S&P 500 nudged higher on Friday, eking out a weekly gain.
Additionally, investors will be monitoring bond yields. Ten-year Treasury rates surged over the top of a range that had been in place since mid-July, surpassing 1.40 percent and closing the week at 1.45 percent in response to hawkish statements from the Federal Reserve and Bank of England last week. In comparison to peers, the dollar was mediocre.
The euro lost ground against the dollar after the German election failed to yield a clear winner, stoking investor concerns about a protracted decision on Europe's largest economy's leadership. The Social Democrats' Olaf Scholz edged ahead of Chancellor Angela Merkel's conservatives.
Bitcoin remained stable in the early hours of Monday, trading above $43,000. Digital currencies fell sharply Friday as China stepped up its efforts to curb crypto speculation and mining.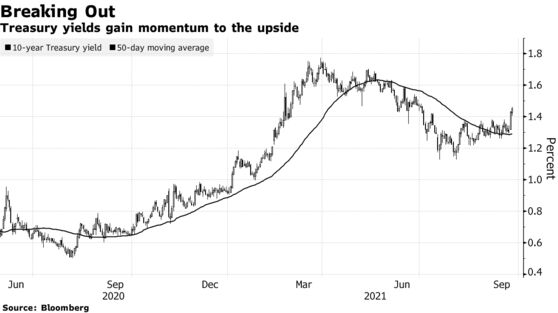 Global equities saw their first weekly gain in three weeks as traders shrugged off fears about a Federal Reserve stimulus reduction, Evergrande contagion risks, and China's new crackdown on cryptocurrencies. There are still concerns, including a resurgence of Covid-19 cases, inflationary pressures, and central banks becoming less dovish.
"Global concerns about Evergrande contagion have subsided somewhat, but it is still too early to declare victory," Shane Oliver, head of investment strategy and chief economist at AMP Capital, wrote in a note. "Stocks continue to be susceptible to short-term volatility."
Loretta Mester, president of the Federal Reserve Bank of Cleveland, stated that she supported beginning to reduce bond purchases in November. Esther George, her Kansas City counterpart, stated that "the criteria for significant additional progress had been reached," referring to the central bank's taper test.
China's housing authority has increased control of Evergrande's bank accounts to ensure money are used to build housing projects and are not diverted to pay creditors.
This week's events to keep an eye on include the following:
Fed Chairman Jerome Powell, Treasury Secretary Yellen to testify at a Senate Banking Committee hearing Tuesday
European Central Bank President Christine Lagarde speaks Tuesday
Japan's ruling party votes to elect leader, Wednesday
Central bank chiefs Andrew Bailey (BOE), Haruhiko Kuroda (BOJ), Christine Lagarde (ECB) and Jerome Powell (Fed) participate in an ECB Forum panel, Wednesday
House Financial Services Committee hearing on the Fed, Treasury's pandemic response, Thursday
China Caixin manufacturing PMI, non-manufacturing PMI, Thursday
U.S. manufacturing PMI, Friday
Several significant market movements include the following:
Stocks
S&P 500 futures rose 0.2% as of 7:18 a.m. in Tokyo. The S&P 500 rose 0.2%
Nasdaq 100 futures were little changed. The Nasdaq 100 was little changed
Nikkei 225 futures fell 0.6%
Australia's S&P/ASX 200 Index futures were little changed
Hang Seng Index futures fell 0.8% earlier
Currencies
The Japanese yen was at 110.78 per dollar
The offshore yuan was at 6.4623 per dollar
The Bloomberg Dollar Spot Index rose 0.3% Friday
The euro traded at $1.1720
Bonds
The yield on 10-year Treasuries advanced two basis points to 1.45%
Commodities
West Texas Intermediate crude rose 0.6% to $74.41 a barrel
Gold was at $1,750.41 an ounce
Published by Zack Baharum